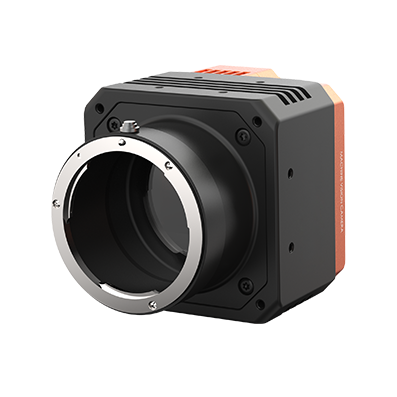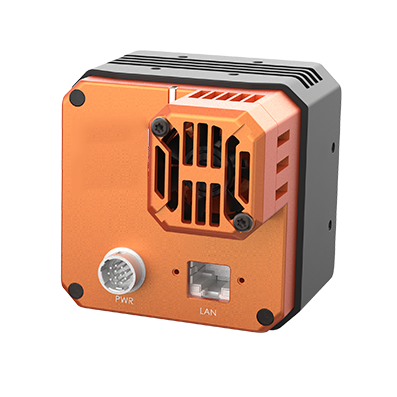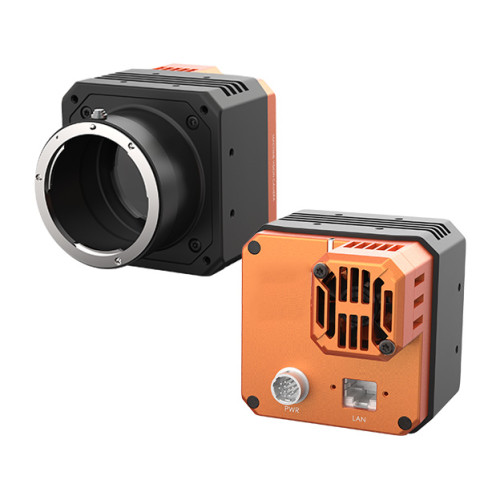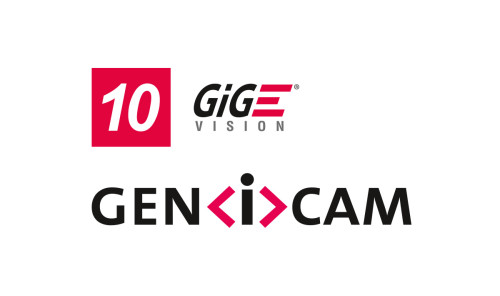 10 GigE Camera | HC-CH650-90TM 65 MP Mono CMOS 10 GigE Area Scan Camera
Item specifics
Sensor type

CMOS, global shutter
Sensor

GMAX3265
Pixel size

3.2 µm × 3.2 µm
Sensor size

29.9 mm × 22.4 mm
Resolution

9344 × 7000
Max. Frame Rate

15.5 fps
Mono/Color

Mono
Data Interface

10 GigE
Lens mount

M58-Mount/F-Mount
Compatibility

GigE Vision V2.0, GenlCam
Description
10 Gigabit Ethernet – fast, reliable and easy integration

Gigabit Ethernet is the most widely used interface in industrial image processing due to low system costs, cables up to 100 m in length and the GigE Vision standard for easy integration. The ongoing trend toward higher resolution and speed due to ever faster production cycles and new CMOS sensors calls for cameras with increased transmission bandwidth. 10 Gigabit Ethernet allows for transmission of 10 times more image data at 1.1 GB/s while at the same time providing all the advantages of Gigabit Ethernet interfacing without requiring a change to integration software.
Quick and easy integration
More and more PC motherboards support the 10GBase-T interface for direct implementation of 10 GigE cameras. Alternatively, low-priced 10GBase-T standard network cards allow for easy one-cable solutions with data and power (Power over Ethernet) over the same cable. However, Camera Link or CoaXPress always require an additional frame grabber card.
From GigE Vision Standard version 2 onward, changing the application software during the camera integration is a thing of the past, since the software is fully separated and autonomous from the Ethernet interface. Programming using GenICam remains the same, and operation together with GigE Vision cameras is easily achievable.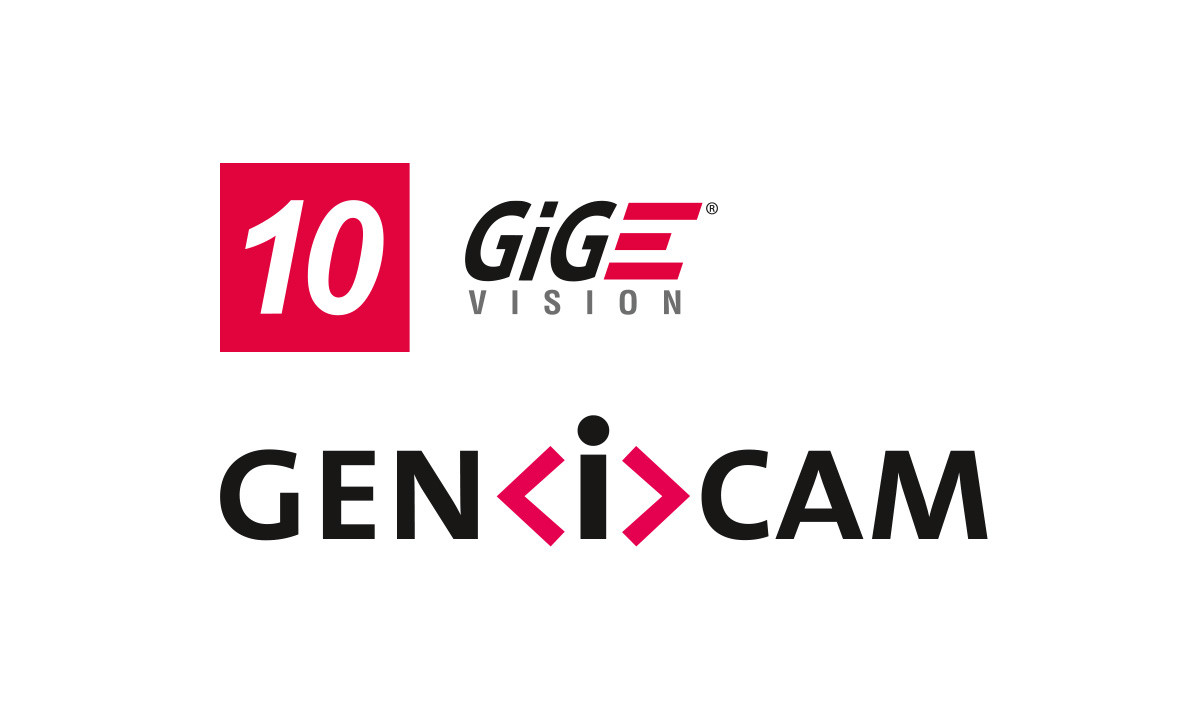 High bandwidth for cables up to 100 m
The 10 GigE interface provides stronger solutions for applications requiring high bandwidth for long-distance transmission up to 100 m with a single cable, but eliminates the need for specialized components such as frame grabbers.
Under the label 10GBase-T, the Ethernet standard IEEE 802.3an defines the use of twisted pair cables. CAT6 cables are allowed for up to 55 m distance. Greater distances call for CAT6a cables.
For existing CAT5e installations where replacing the present cabling is economically infeasible, transmission rates of 2.5 or 5 Gbit/s are recommended. Transmission speed is defined in standard IEEE 802.3bz of the NBASE-T Alliance.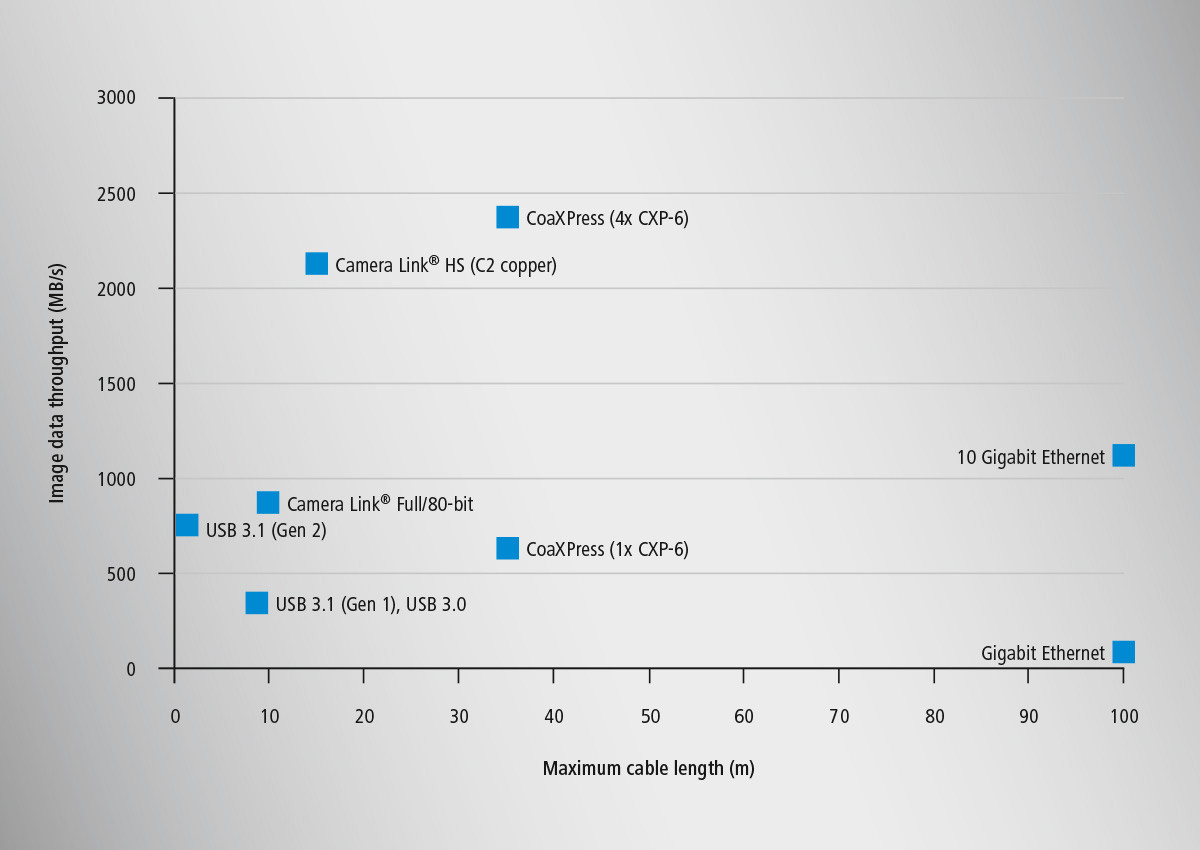 10 GigE Camera | HC-CH650-90TM 65 MP Mono CMOS 10 GigE Area Scan Camera

HCCH650-90TM/TC camera adopts Gpixel GMAX3265 sensor to provide high-quality image. It uses 10 GigE interface to transmit non-compressed image in real time, and its max. frame rate can reach 15.5 fps in full resolution.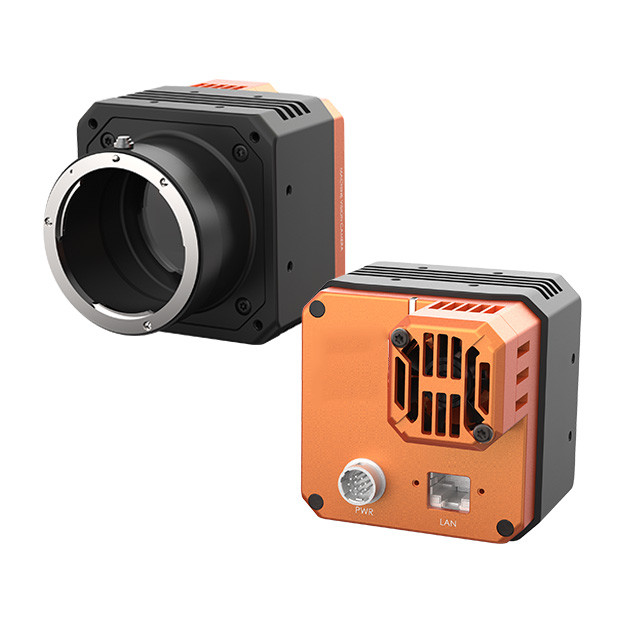 Key Feature
■ Resolution of 9344 × 7000, and pixel size of 3.2 μm × 3.2 μm.
■ Adopts 10 GigE interface providing max. transmission distance of 100 meters without relay.
■ Supports auto or manual adjustment for gain, exposure time, and manual adjustment for Look-Up Table (LUT), Gamma correction, etc.
■ Compatible with GigE Vision Protocol V2.0, GenlCam Standard, and third-party software based
M58 Mount with fan: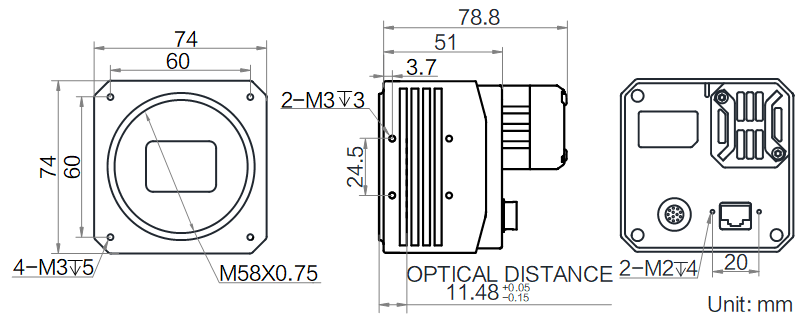 F Mount with fan:

Model

Model

HC-CH650-90TM

Type

65 MP CMOS 10 GigE Area Scan Camera

Camera

Sensor Type

CMOS, global shutter

Sensor

GMAX3265

Pixel Size

3.2 µm × 3.2 µm

Sensor Size

29.9 mm × 22.4 mm

Resolution

9344 × 7000

Max. Frame Rate

15.5 fps

Dynamic Range

66 dB

SNR

40 dB

Gain

1.25X to 6X

Exposure Time

15 μs to 10 sec

Exposure mode

Off/Once/Continuous exposure mode

Mono/Color

Mono

Pixel format

Mono 8/10/10p/12/12p

Binning

Supports 1 × 1, 1 × 2, 1 × 4, 2 × 1, 2 × 2, 2 × 4, 4 × 1, 4 × 2, 4 × 4

Decimation

Supports 1 × 1, 1 × 2, 1 × 4, 2 × 1, 2 × 2, 2 × 4, 4 × 1, 4 × 2, 4 × 4

Reverse image

Supports horizontal and vertical reverse image output

Electrical features

Data Interface

10GigE

Digital I/O

12-pin Hirose connector provides power and I/O, including opto-isolated input × 1 (Line 0), opto-isolated output × 1 (Line 1), bi-directional non-isolated I/O × 1 (Line 2), and RS-232 × 1

Power Supply

9 VDC to 24 VDC

Power Consumption

Typ. 11 W@12 VDC

Mechanical

Lens Mount

M58-mount, optical back focal length 11.48 mm (0.5")
F-mount, optical back focal length 46.5 mm (1.8")

Dimension

M58-mount with fan: 74 mm × 74 mm × 78.8 mm (2.9" × 2.9" × 3.1")
F-mount with fan: 74 mm × 74 mm × 84.8 mm (2.9" × 2.9" × 3.3")

Weight

M58-mount with fan: approx. 550 g (1.2 lb.)
F-mount with fan: approx. 600 g (1.3 lb.)

Ingress Protection

IP40 (under proper lens installation and wiring)

Temperature

Working temperature: 0 °C to 50 °C (32 °F to 122 °F)
Storage temperature: -30 °C to 70 °C (-22 °F to 158 °F)

Humidity

20% to 95% RH, non-condensing

General

Client Software

MVS or third-party software meeting with GigE Vision Protocol

Operating System

32/64-bit Windows XP/7/10

Compatibility

GigE Vision V2.0, GenlCam

Certification

CE, FCC, RoHS, KC